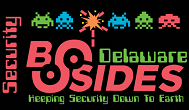 Information security conference being held at Wilmington University, New Castle, Delaware – November 13-14, 2015.
Maven Security taught a 4-hour session on testing web applications with Burp Suite Pro (featuring our open-source project "Web Security Dojo"), and helped build & run the CTF for Pro v. Joes.
Check out BSides Delaware home page for details.